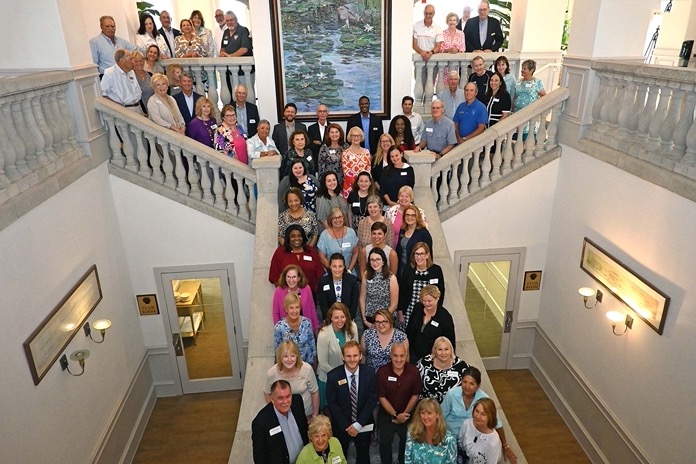 Agencies We Support _______________________________________________
Grand Harbor Community Outreach Program (GHCOP)–since 2002–assisting deserving non-profit agencies in Indian River County:
This year, GHCOP's Board of Directors is pleased to announce $395,898 in Grants to 28 non-profit agencies for 29 different programs.
The distributions focus on the unmet needs of groups and individuals in the areas of health, education, and human services in Indian River County, and whenever possible to support our Gifford neighbors.

A year-long effort – including vetting the agencies by our dedicated GHCOP volunteers:
• Summer of 2021: GHCOP Grant process begins. Philanthropy Committee invited 28 non-profits in IRC to submit a letter of intent for specified projects and programs. All were approved and they sent their applications end of November. Financial analysts then reviewed each agency's financial report.
• January and February: Teams of volunteers carefully reviewed each application and most met on site (a small number of visits were made via Zoom) with senior management and board representatives of each agency.
• Philanthropy Committee made their final recommendation to the GHCOP Board in March for approval.
• Checks were delivered to agencies at the Awards Breakfast April 4. (See above photo of breakfast attendees.) The approved Grants fall into the three categories shown below.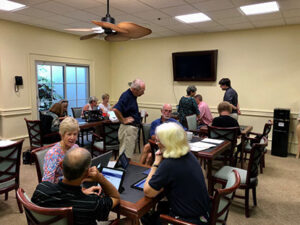 The GHCOP grant process began in August of 2020 when the Philanthropy Committee Co-Chairs Lisa Alcock and Al Gallo began revising their approach to meet the difficult guidelines imposed by the pandemic. They started by inviting IRC non-profits to submit a grant application Letter of Intent. Grant applications were then submitted in mid-November. Over the winter and early spring, volunteers then carefully reviewed each application. Outreach volunteers met safely using Zoom technology with senior agency management and their BOD representatives to discuss applications and any special circumstances.
We were very fortunate this season to have several new, highly qualified volunteer financial analysts who reviewed the agency- and program-specific reports, along with experienced and new committee members conducting those always essential site visits. After rounds of internal committee deliberations, a final recommendation was presented to the GHCOP Board in May 2021 for approval. Due the ultimate success of GHCOP's extraordinary fundraising efforts, we were able to award $45,000 more than the originally planned level funding. 
This season we discovered the generosity of the Grand Harbor and Oak Harbor communities despite the year's hardships and uncertainties. We cannot stress enough how grateful we are for the support the community has shown Outreach. Because of your generosity we have an extraordinary chance to make a difference in the county we call home. More than half of our county residents live below the federal poverty line or are among the working poor. At our annual grant awards breakfast in April 2021, agencies received their grant monies and described deep appreciation, confirming what all our generous volunteers and donors already know: that these funds would have a meaningful impact on their programs and those they serve during this most difficult year.
Lisa Alcock and Al Gallo, Co-Chairs Philanthropy 2020-2021
Education $158,570 _____________________________________________

Big Brothers Big Sisters: $8,500 to allow BBBS to serve more than 500 IRC children in school and site-based mentoring. Caring one-to-one mentors help kids learn, share new experiences and grow exponentially. Focus is on Pre-K through Grade 3.
Childcare Resources: $31,320 to subsidize high quality childcare for working parents with incomes between 150% and 200% of the federal poverty level. This agency promotes the highest quality childhood development and education for economically challenged families.
Crossover Mission: $25,000 to sustain and grow their afterschool program. Crossover Mission works to redirect at-risk youth ages 8-18 in IRC through a year-round combined tutoring and community youth recreational activity enrichment program.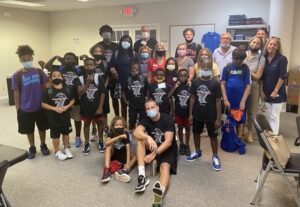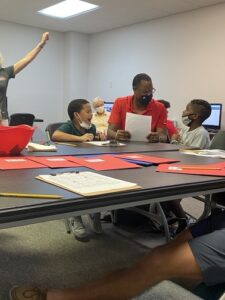 Economics Opportunity Council: $10,000 to fund the Early Bird pre-school program for children aged 2 to 3 at St. Helen's Head Start Center in Gifford.
Gifford Youth Achievement Center: $32,000 to support the After-School Education Program. This program provides homework assistance, tutoring, educational enrichment activities and cultural, social and recreational opportunities to children of all ages.
Healthy Start Coalition: $6,500 to fund the purchase of books for the Language Nutrition Programs: Parents as Teachers and Healthy Families. Healthy Start's Mission is to develop and maintain a support system of care to optimize the health of mothers, babies and their families in IRC.
Literacy Services of the Treasure Coast: $7,000 to support the 1 on 1 literacy tutoring program for local adults 16 and older. Literacy Services is the safety net for adults to improve their literacy skills and helps them get better jobs, engage in their children's education and become active participants in the community.
The Learning Alliance: $26,250 to support the Gifford community through providing families with children ages 0-5 years the necessary tools to be their child's first teacher and build the literacy and social emotional skills of their children so that they are ready for kindergarten. This grant will also empower K-2 educators to be able to support building the early literacy skills of students through effective coaching and professional development. This grant encompasses two distinct programs: the KRC Connection Center in Gifford a K-2 Literacy Coach at Dodgertown Elementary.
Youth Guidance Mentoring: $12,000 to fund the mentoring program that prepares youth ages 5-15 who come from lowincome, single parent homes and mentors to work together in groups. Group mentors are matched with small groups of children.
Financial Stability $123,750________________________________________
Camp Haven: $13,000 to support professional counseling for clients in the Pathways to Purposeful Life, Financial Stability Program. Camp Haven provides a residential setting for homeless men to regain financial independence and selfesteem leading to full time employment. They have a structured program of counseling in social and relationship skills, vocational and educational opportunities and reconnecting with their communities in a healthy, drug-free lifestyle.

Catholic Charities of the Diocese of Palm Beach, Inc./Samaritan Center: $13,000 to help support this residential facility for homeless families that is a transitional program focusing on "Life Skills Development" (parenting, budgeting, and education). The program's primary goal is the promotion and development of healthy family values and family structure leading to the successful re-entry of homeless families into mainstream society.
Children's Home Society: $12,500: o fund the Transitional Living Center in Vero Beach. The TLC is a residential program for homeless youth ages 18-23 who have aged out of foster care. The program provides a safe environment to complete high school or a GED, receive training in life skills and assistance in finding employment opportunities.
Hibiscus Children's Center: $21,500 to support the Career Pathways to Independence Program at the Hibiscus Children's Village in Vero Beach. This wrap-around education program provides individualized assistance to children whose traumatic experiences have virtually halted the educational process. This program helps foster teens increase attendance and engagement in school, make academic progress and graduate with skills, knowledge and exposure to pursue postsecondary options or careers.
Habitat for Humanity of IRC: $8,750 to sponsor the construction of a new Grand Harbor Habitat home. Many Grand Harbor residents volunteer at the Habitat building site and the Re-Store.
Hope for Families: $20,000 to support a portion of the family shelter budget. Hope for Families has a simple mission to provide safe shelter, food and assistance in financial literacy: securing employment, saving money, and moving into permanent housing. Most of this agency's clients are children.
United Against Poverty: $25,000 to support the Success Training for Employment Program (STEP). STEP serves unemployed adults with barriers to employment such as little or no work history, substance abuse and/or mental health and criminal background issues. Through a three- phase program, participants are motivated and trained to find and keep a job.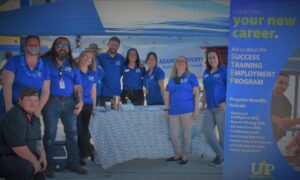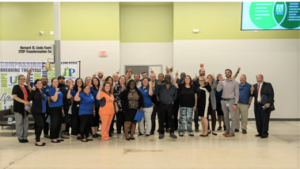 Health and Special Needs $113,578 _________________________________
Alzheimer & Parkinson Association of IRC: $18,000 to help support the Gifford Community Program that offers caregiver support, memory and movement programs and dementia education to Gifford residents free of charge. All activities focus on one-on-one participant engagement that emphasizes social interaction and validation.
Mental Health Association in Indian River County: $6,000 to help fund the agency's Walk-in & Counseling Center, which prevents avoidable harm from untreated mental health issues including suicidal ideation. Services include walkin mental health screening and crisis intervention, information/referral, support groups, wellness classes, psychiatric care, and individual/family/group psychotherapy.
Our Father's Table: $5,000 to help fund the agency's six-day meal delivery to the elderly and homebound of Gifford. Last year, GHCOP's support underwrote 1 out of every 8 meals.
Senior Resource Center: $15,000 to the Meals on Wheels Waitlist Relief Program providing a vital daily hot meal and wellness check to low-income homebound seniors. SRA promotes independence and dignity in IRC by providing services to older adults and free countywide transportation to all.
Special Equestrians of the Treasure Coast, Inc: $6,578 to provide Horse Powered Reading with Equine Assisted Learning to first graders with learning challenges at Dodgertown Elementary School in Gifford.
Substance Awareness: $9,000 supports peer-based recovery support services provided primarily through community based peer outreach programming the agency's Recovery Assistance Program for substance users, many who are homeless or inmates as part of the re-entry process from incarceration. The RAP homes provide a safe and structured alternative environment to life on the "streets" or life in the drug using neighborhoods or with people as part of the re- entry process from incarceration.
Sunshine Rehabilitation Center of IRC: $10,000 to support free multidisciplinary rehabilitation services for all children regardless of insurance status. The Sunshine Physical Therapy Clinic is a non-profit independent outpatient rehabilitation center that provides services to IRC residents by offering professional rehabilitation services to children and adults.
The ARC of IRC: $18,000 to help fund the essential upgrade of air conditioning units at The Arc – West Campus facility. The ARC operates residential group homes, provide employment training and job services, counseling and transportation to over 200 adults daily with a variety of disabilities.
Tykes & Teens, Inc.: $20,000 to support the "Little TYKES "(Teaching Young Children Emotionally & Socially) program that uses evidence-based interventions to mitigate the effects of trauma in young children and build the capacity of childcare staff to respond appropriately to young children exposed to trauma. They also provide services to the Department of Children and Families (DCF) dependency system to facilitate successful family reunification.
VNA of IRC: $6,000 to provide home health care through the Medicaid –Eligible Patient Care Program. This program is the VNA's critical safety net for an estimated 120 home health patients. These clients are under age 65 and either underinsured or without health insurance or funds to pay for their health care. The VNA provides compassionate, innovative care for patients needing home health, hospice and community services.